Lot Reservation For 10 Or More Vials Of Corning® Matrigel® Matrix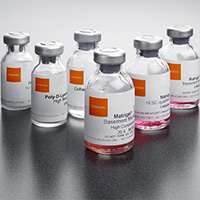 Please complete the form and your local Corning representative will respond to your request.
Be certain to include:
Lot number from the side of a vial of Corning Matrigel Matrix that has worked well for your application
Target protein concentration from the Certificate of Analysis
If you require less than 10 vials, please contact Corning Scientific Support for assistance. Lot reservation is typically not required for smaller quantities.
Thank You For Your Submission
Thank you. We are processing your request.
In the meantime, if you are looking for more information about Corning® Matrigel® Matrix please check out this our surfaces selection guide.