Life Sciences Sales & Marketing Rotation Program
Shape Your Future
Ever since Corning Life Sciences introduced PYREX® glass in 1915, we have been a trusted supplier to the drug discovery business. Our labware helped enable the early production and distribution of such world-changing medicines as penicillin and the polio vaccine. And as pharmaceutical and biotechnology companies have changed their research focus from high volume, low-margin medicines to rare disease and specialized medicine, we have built a position of global leadership.
Our customers use our innovative life sciences technologies as they develop new treatments for conditions like arthritis and cancer, as well as vaccines for global health threats like the Ebola virus.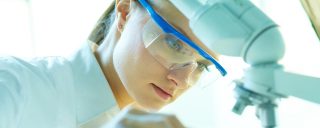 Shape Your Future
Shape Your Future
Sales & Marketing Rotational Program
Sales & Marketing Rotational Program
Commercial & Business Operations Rotational Program
The Commercial and Business Operations Rotational Program provides new graduates with the unique opportunity to quickly gain broad business experience through rotations across various aspects of the business. Participants will actively take part in mentoring relationships, experiential learning and leadership development opportunities. 
Rotational Program Overview
Each 3-4 month rotation will provide participants with the opportunity to learn and experience a functional aspect of the Commercial end-to-end process. The program intends to build a pipeline of talent who understands and has had exposure to multiple aspects within the business. Each rotation will provide an overview of a core aspect of the business including: products and pricing, product marketing, field sales, scientific and customer support. Each participant will be paired with a designated mentor, and will be given the opportunity to network with senior professionals, participate in specific learning and development opportunities and take part in "fun" activities. Throughout the duration of the program you will work with your cohort on a Corning Life Sciences business issue that will be presented to senior leadership prior to graduating from the program. The one year program will culminate with a graduation ceremony and placement into a permanent role within Corning Life Sciences. Permanent roles may include: sales, associate product line managment, product line management, or other sales & marketing function.
Ideal Candidate Profile
- Bachelor's degree in a Life Sciences field
- Interested in building a career withinin sales and marketing
- Inquisitive and curious
- Passion for Life Sciences
- Flexible and mobile (mobility post rotation is a requirement for this program)
- Comfortable working on their own and in teams
- Personally driven and self-aware
- Previous internship desired
- Authorized to work in the US
The Program Includes
- Robust and challenging rotational assignments
- Independent and team projects
- Mentoring, personal and group development opportunities
- Broad exposure to Corning's Life Sciences division
- Competitive salary and benefits