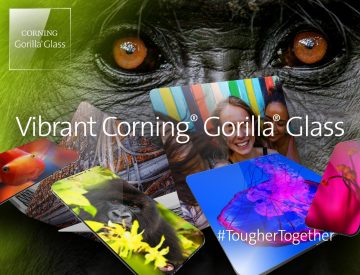 INTRODUCING VIBRANT CORNING® GORILLA® GLASS
With Vibrant Corning Gorilla Glass, device manufacturers can now expand their options for device design by adding multi-color, high resolution, photo-quality images to the industry's leading cover glass solution, Corning Gorilla Glass.
Using Corning's proprietary process, ink and equipment, Corning prints a colorful, customized design for smartphones, tablets or notebooks on Corning Gorilla Glass, including gradient colors and logos, photo-quality images and multi-color decorations. Unlike traditional screen printing technologies, Vibrant Corning Gorilla Glass provides outstanding resolution and sharpness, requires shorter processing times, and produces less waste.
COLORFUL IMAGES PRINTED ON VIBRANT CORNING® GORILLA® GLASS