Inspired by Glass: The Glass Age at CES® 2017
The Glass Age returned to CES® 2017, further pushing boundaries and redefining the possibilities of Corning precision glass
Corning brought its vision for advanced glass technologies back to Las Vegas for the 2017 Consumer Electronics Show, welcoming booth visitors into the Glass Age and providing another set of immersive and interactive experiences. By taking some of the most typical daily activities – such as driving, collaborating and exercising – and redefining their capabilities, Corning demonstrated how interactive those activities could be all thanks to precision glass.
In the latest "Inspired by Glass" segment, host Maddie Gionet of Corning brings you into the Glass Age at CES® 2017 to demonstrate how Corning is pushing boundaries and redefining the possibilities of advanced glass technologies.
"The pace of glass innovation has been increasing significantly in recent years," said Jeff Evenson, senior vice president and chief strategy officer at Corning. "And at CES® 2017, our goal is to capture the imagination of designers and other innovators. We want to educate them about the unique properties of advanced glass and its role in solving some really tough technology problems."
Connected Car
Featuring exterior glazing technologies as well as sleek, durable interior surfaces, Corning's Connected Car prototype redefines the driving experience.
"We initially targeted the automotive market because Corning® Gorilla® Glass is lightweight – we thought that would clearly address fuel economy needs and also provide better handling, and it does," said Evenson. "But as we began to work with auto manufacturers, we found out that the advantaged optics of our Gorilla Glass for head-up displays, its toughness, durability, and touch sensitivity incorporated into the next generation of connected cars were huge benefits."
Fitness Mirror
Corning's Fitness Mirror prototype brings all the components of your fitness experience onto one surface, combining all the components you need to get your sweat on.
"Precision glass is playing three important roles in this product," said Evenson. "On the outside we have Gorilla Glass which is our toughness-optimized glass … Behind the Gorilla Glass, you have a high-resolution display … it has two sheets of Corning glass in it. And of course to get the on-demand content, it travels through Corning's optical fiber."
Collaboration Hubs for the Home and Office
The Collaboration Hubs for the Home and Office are extending productivity beyond the walls around you, enabling a more seamless, interactive work environment with colleagues anywhere, anytime.
"The idea of the Collaboration Hubs is to facilitate the interchange of ideas and dissolve distances," said Evenson. "The surface of our Collaboration Hubs is Gorilla Glass that allows for not only a great viewing experience but very responsive touch." 
Glassie Station
To provide booth visitors with a takeaway from their Glass Age experience, Corning debuted its Glassie Station, taking your selfie to the next level.
"Augmented reality and virtual reality are two of my favorite trends in consumer electronics," said Evenson. "Both depend on advanced glass in several ways – getting huge amounts of data to the device, moving light in precise ways to have a high resolution, realistic image for the user. Using 3D image capture and advanced processing, we turn you into a 3D image."
The possibilities for Corning's advanced glass technologies are limitless. We have only just begun to live in the Glass Age – are you ready to join us?
Watch the full "Inspired by Glass" segment for more.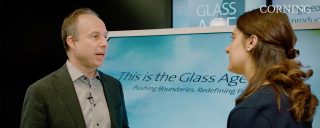 Inspired by Glass
Inspired by Glass
Experience how Corning pushed boundaries
and redefined possibilities at CES® 2017
Experience how Corning pushed boundaries
and redefined possibilities at CES® 2017
Watch Now