How creative collisions are forging new glass frontiers
Artist or scientist? Emotion or logic? Right brain or left brain? In a world that loves the simplicity of binaries, it's tempting to view art and science as opposites. Popular culture helps perpetuate that myth, from stereotypes of artists and scientists on sitcoms to Facebook quizzes that place people into tidy categories. Dr. Jeffrey Evenson presented a different perspective when he was invited to deliver a keynote recently at the Rockwell Museum, a Smithsonian Affiliate in Corning, New York. As chief strategy officer for Corning Incorporated and chairman of the Corning Museum of Glass, Evenson has a unique seat at the intersection of high-technology and art.  Moreover, the material at the center of his work—glass—embodies the marriage of the two, with its remarkable combination of technical and aesthetic properties.

Evenson noted that art and science share many key ingredients. For example, they both involve actions of creation; innovations in both fields often stir up controversy; and practitioners of each go through similar development processes, including building on the knowledge that came before them and undergoing iterations before producing a satisfactory result. But Evenson argued that the synergies are even more interesting than the similarities.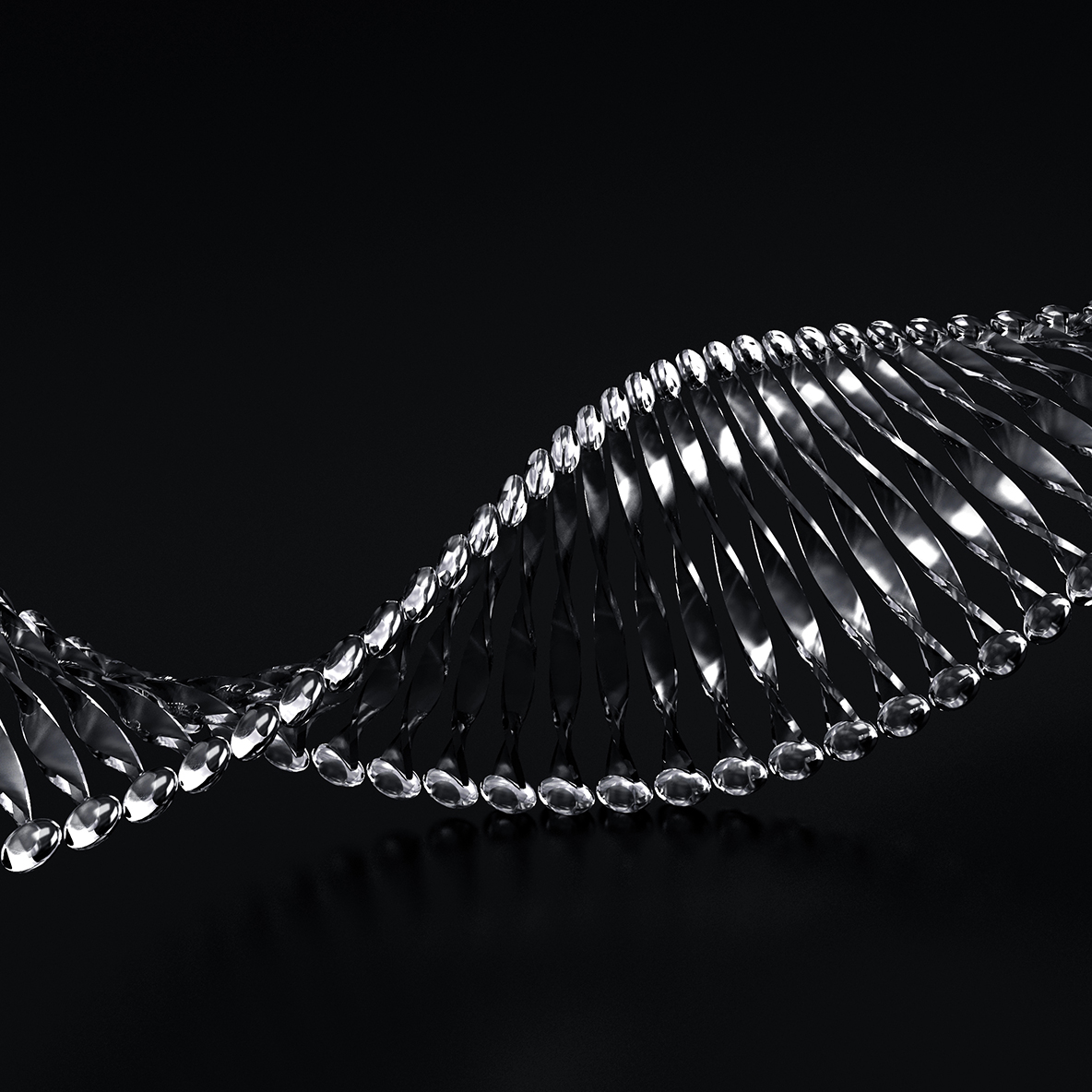 In the book, Where Good Ideas Come From, popular science writer Steven Johnson used the term "collisions" to describe the experience of perspectives from different fields of expertise converging in a shared physical or intellectual space. "I love that term and am a firm believer in the notion that ideas and the state of the art evolve faster when diverse perspectives collide and interact frequently," said Evenson.


Evenson was particularly intrigued by an anecdote Johnson shared about Francis Crick, the British molecular biologist and neuroscientist. Crick, apparently, conceived of the complementary replication system of DNA by thinking of how a sculpture can be reproduced by making an impression in plaster, and then using that impression as a mold to create copies. That compelling example of art influencing science inspired Evenson to find examples of science influencing art.  He didn't have to look far. 
Collisions Between Glass Artists and Scientists
Karen LaMonte is an artist whose work Evenson is very familiar with, based on her life-size glass sculptures of dresses exhibited at the Corning Museum of Glass. LaMonte, who strives to create objects that are universally understandable, experienced a very productive collision on a recent project when she decided she wanted to sculpt a cloud. She didn't want to simply sculpt what she saw. She wanted to use real data to arrive at the form and to capture the actual weight of the cloud.
LaMonte's research led her to a team of climate scientists at CalTech. Led by Dr. Tapio Schneider, the team is focused on reducing uncertainties in climate change projections. One of the ways they do that is by using specially designed algorithms to model cloud formations. When LaMonte approached them with her rather unusual request for help, they jumped at the opportunity to do something unconventional.
The project was a very high-tech undertaking. They used a supercomputer located in Switzerland to simulate weather conditions that would create a cumulus cloud worthy of sculpting. That process alone took five days. Then, once LaMonte had all the necessary data, she needed more technology to convert that data into a physical sculpture. She used special software and a large robot to sculpt a 15-ton piece of marble over a four-week period, before hand-finishing the piece. The finished product is a seven-foot-tall, two-and-a-half-ton sculpture that LaMonte exhibited at the 2017 Venice Biennale, a major international art show.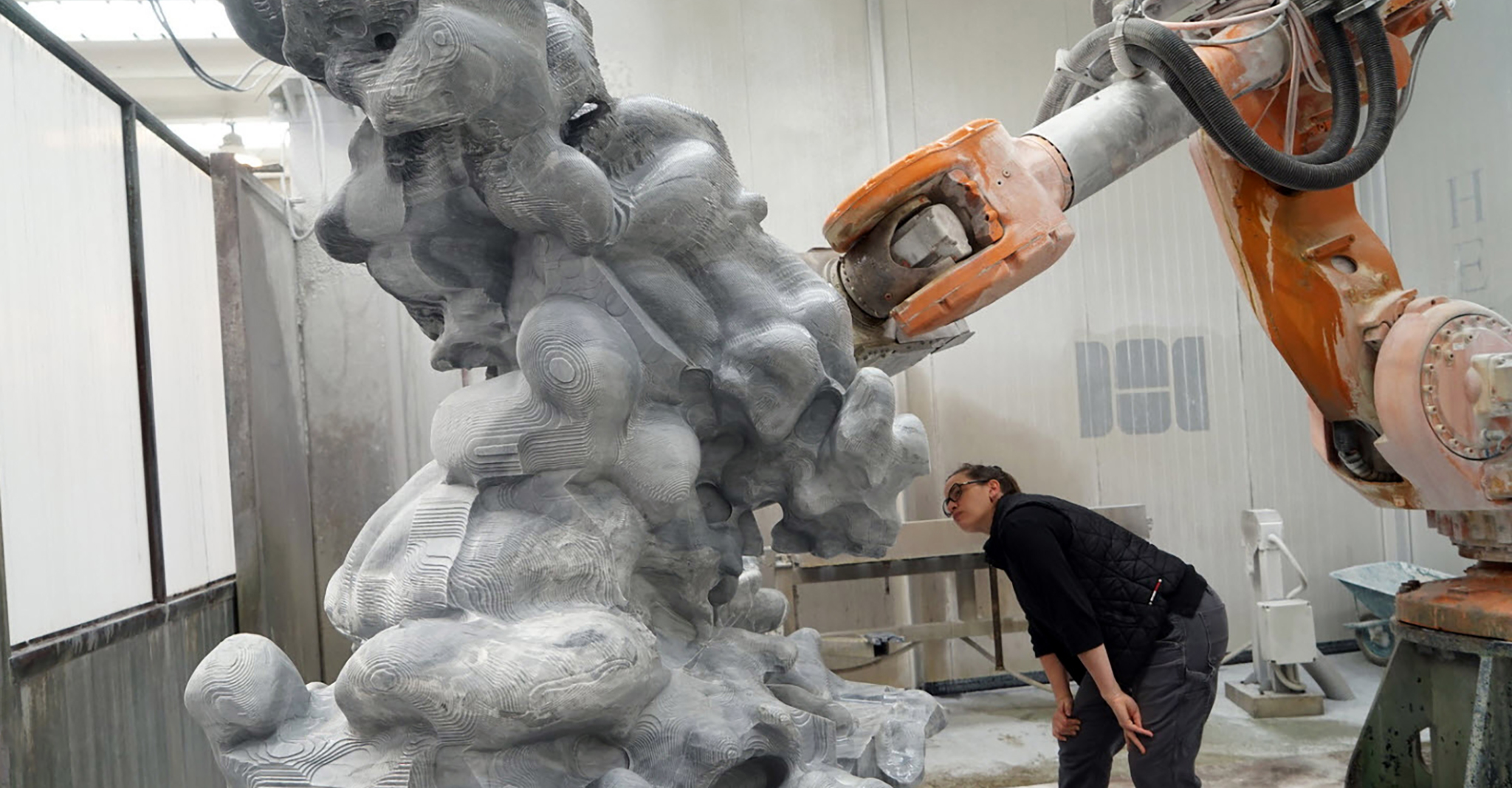 Using special software and a large robot, LaMonte sculpted a 15-ton piece of marble over a four-week period.
The collision was valuable for both the artist and the scientists. LaMonte not only produced a beautiful sculpture, the experience also increased her interest in using new technologies, tools, and processes. For the scientists, it was a way to make their work interesting to the public, in a way they can't do with a white paper.
The conversation with LaMonte prompted Evenson to ask some of the glass scientists and artists he works with how art and science collide in their work.
As director of the Studio at the Corning Museum of Glass, glass sculptor Amy Schwartz frequently encounters other glass artists who have a cool idea for a project but don't know how to execute it. Schwartz explains, "The scientist will say 'I kind of have an idea of how we can do that.' And together they figure out something, and there's this spark that goes back to the artist, who now can see 'there's a path for me' and takes it to the next step."
Dr. Neil Palumbo, a senior research engineer in Corning's Process Research division, says, "No matter who you talk to, whether an artist, engineer, or businessperson, you always can gain some knowledge from them that can help you later on."
Hear more from glass artists and scientists:
The Marriage of Form and Function
Not surprisingly, art and science are colliding more than ever in Corning's products. Corning invented Corning® Gorilla® Glass, for example, to meet a customer's desire to produce a smartphone that featured both beauty and durability. From an aesthetic point of view, consumers want sleek designs. But from a technical point of view, they need a glass that resists damage from drops and scrapes.
Corning® Fibrance® Light-Diffusing Fiber is an example of a product that took Corning's expertise in fiber-optic technology and turned it upside down – or more accurately, inside out – to create a compelling mix of technical and aesthetic properties.  With conventional fiber optics, the objective is to keep the light inside – hence the term low-loss optical fiber. But Corning designed Fibrance to emit light along its length. It can be used for a variety of design applications – e.g., to illuminate shadowy areas like stairwells, make sports equipment and clothing visible at night, or simply add color and ambiance to an environment.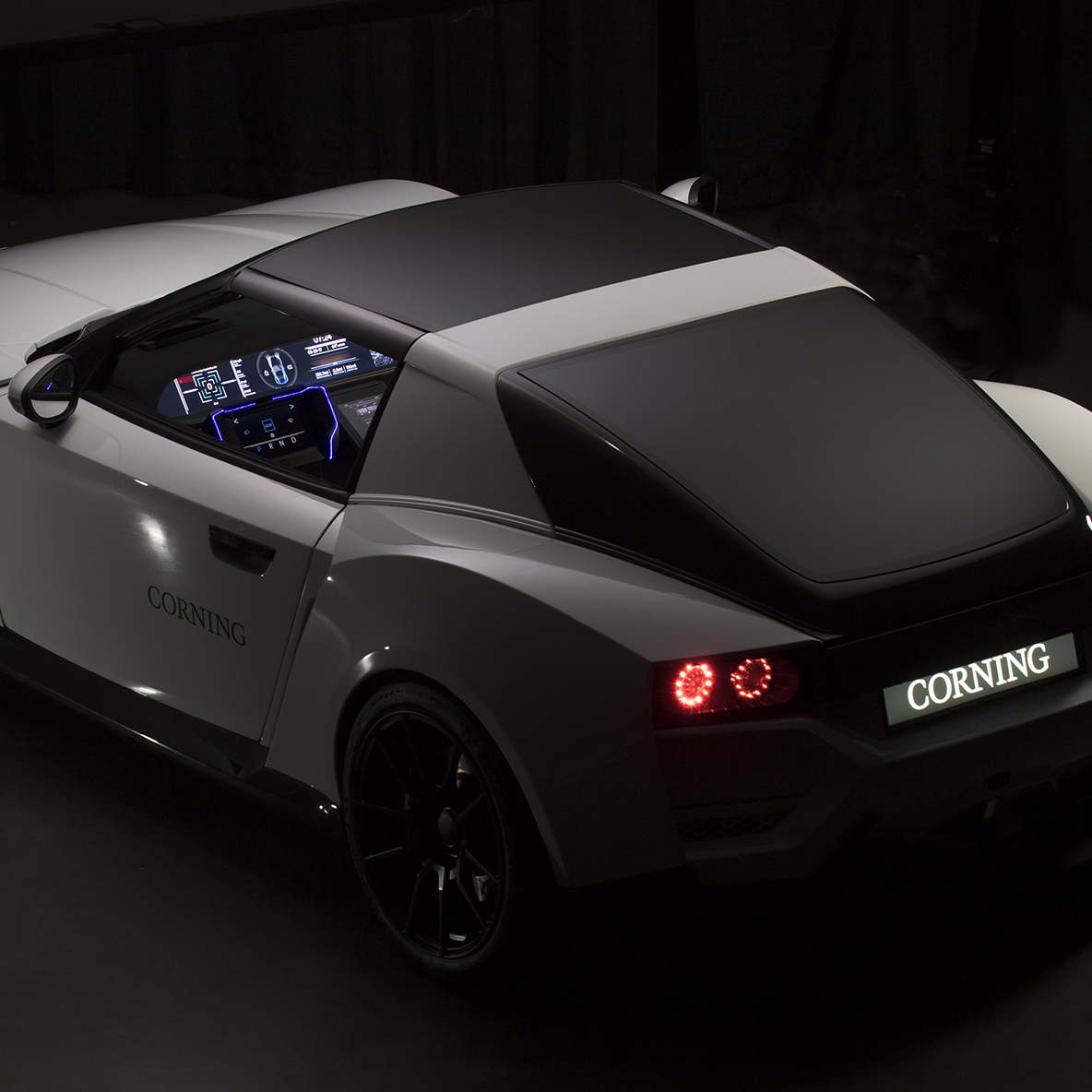 Corning is also developing products that help automakers raise the bar for both style and performance. Corning® Gorilla® Glass for Automotive features a thin form factor, light weight, superior optics, and multi-touch responsiveness that make it possible to create car interiors with the sophisticated capabilities consumers have come to expect from their smartphones. Gorilla Glass can also be formed into custom shapes, allowing elegant new designs for dashboards and consoles with curved or multi-directional displays.
"Ultimately, we're trying to create that perfect marriage of form and function," says Evenson. "We want to unleash new capabilities and solve tough problems, but we also want to develop products that create powerful emotional connections, products that are elegant as well as technically sophisticated."
Creating Collisions at Corning
Recognizing the value of collisions between artists and scientists, Corning is proactively creating such opportunities. One of the best examples is the company's Artist-in-Residence Program.
Launched five years ago, the program grew out of the close collaboration between Corning's glass scientists and the technical curators of glass art at the Corning Museum of Glass. Corning invites world-renowned glass artists to spend time at the company's Sullivan Park research and development campus in Corning, New York, where they work with glass chemists and engineers and use technical glasses to create new art. "The program stimulates artists to reimagine their process and their artwork, and it helps scientists to think more artistically and creatively about their own projects," says Evenson.
Anna Mlasowsky is one of the glass artists who participated in the program. One of her ideas was to create a "Book of Breath," a book of clear glass sheets, where the print would only become visible when someone breathed on it -- similar to the way you can write, and later read the writing, on a steamed-up window or mirror.
Bringing the project to life required several specialized Corning technologies:  glass science, knowledge of polymers, experience in thin films and surfaces, and specialized techniques for printing on glass. Dr. Michelle Wallen, a distinguished associate in Corning's Glass Research division, was one of the host scientists working with Mlasowsky. Wallen says she wasn't sure how the project was going to turn out because it was so complicated. She recalls the day they tested the completed piece.  "The first day that we printed it and we got the ink off of it, we took a breath and we blew on it and it worked! I think I probably jumped through the ceiling," she said. 
After breathing onto the clear glass sheet, print becomes visible in the "Book of Breath."
See Wallen talk about her experience: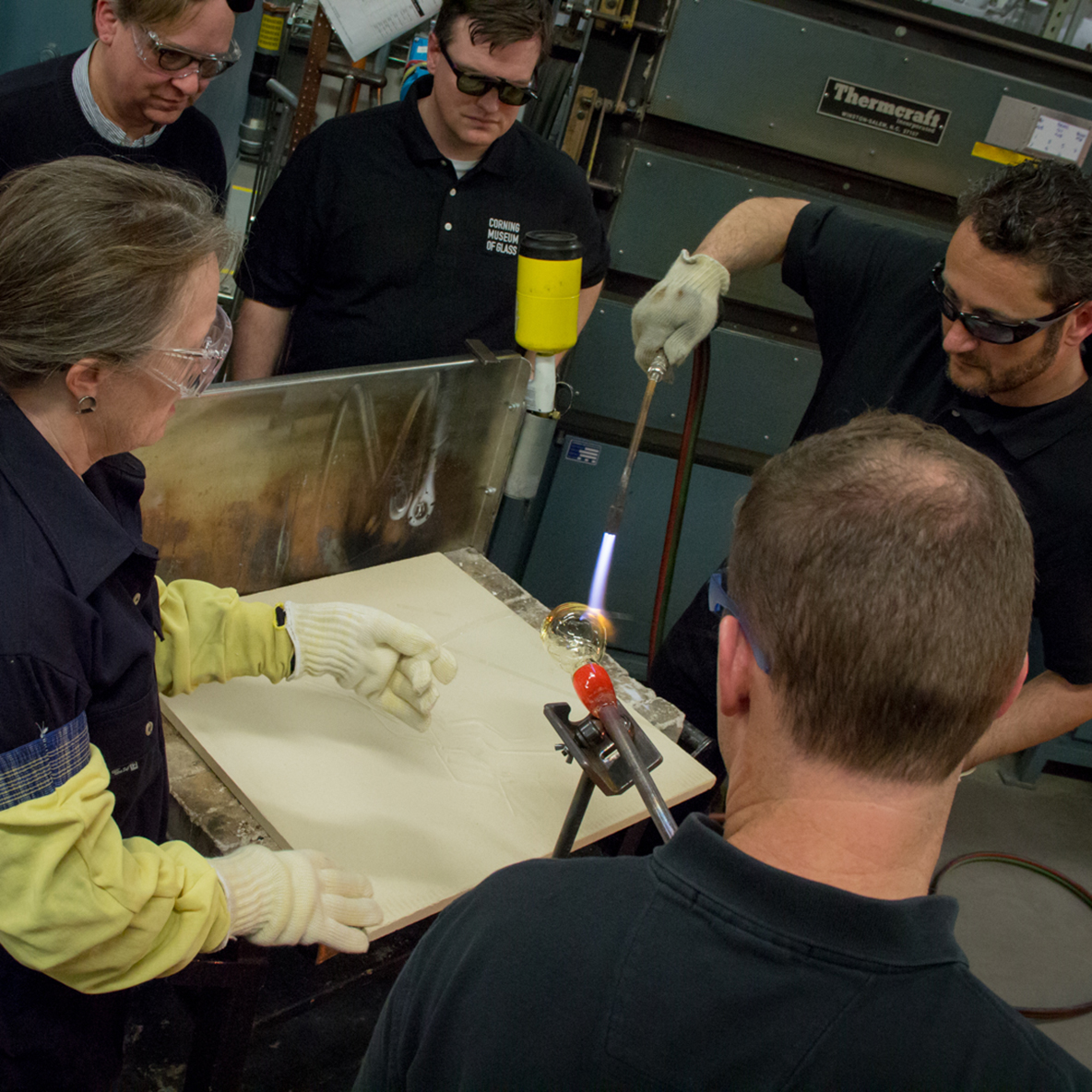 Other glass artists who have participated in the program include Toots Zynsky and Tom Patti.  And this year's artist-in-residence is none other than Karen LaMonte, who is excited about the opportunity to work with glass again. "It is by far the most difficult material that I have worked with," says LaMonte. "But you get the most  'oooh' and 'ahhh' experiences when you work with glass."
That brings us to one of the more subtle ways that Corning creates collisions. The company features glass art throughout its headquarters building. "I honestly have no way to quantify the impact," admits Evenson. "But we believe it has a positive effect on our people by creating a beautiful environment that helps bring out their best. It provides a tangible reminder of the amazing material at the heart of what we do. It reminds us of the value of aesthetics and the powerful emotional connections we strive for with our products. And it helps us honor the work of artists who are masters at their craft, while inspiring us to chart our course of glass innovation and become masters of our own craft."